Unicorns' Quest for San Antonio Ghosts

Anytime at night, but best at midnight, drive to railroad crossings at Espada Park,off Military Drive by San Antonio River, (take highway 35 to Military and go west to Espada Park towards the back of park by the cemetary) put car in neutral and stop exactly on rails then wait to be spiritually pushed off by spirits of kids who died on the same tracks long ago who's spirits still remain there to push you off tracks so you don't end up like them,it is a very chilling sight, don't forget to put powder on the car to see their hand prints.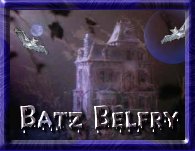 CLICK HERE FOR A GHOST HUNT

HAUNTINGS HISTORY OF SAN ANTONIO
Learn about some of San Antonios' most haunted sites and find out where and how to have the paranormal experience of a lifetime here in San Antonio. All guides are professional ghost investigators with Alamo City Paranormal and members of the International Ghost Hunters Society.
CALL (210)436-5417 FOR INFORMATION
Groups of ten or more should call for special rates and times. $10.00 for adults, discounts for guests under 18.

186 Alamo defenders and 1600 Mexican troops killed without the benefit of a proper burial has left many souls in search of eternal life and has made San Antonio one of the most haunted cities in America.
Alamo City Paranormal and the Ghost Hunt have been featured in Texas Monthly and on numerous TV and Radio shows. Come see what all of the excitement is about. Learn how to use some of the latest equipment currently used by paranormal investigators to find and photograph ghosts during your ghost hunt. Investigations start evenings at the Alamo defenders monument (The Cenotaph) which is located in front of the Alamo. One and one half hour walking investigation that travels less than a mile.


CLICK HERE TO SEESAN ANTONIO PLAYGROUNDS


CLICK HERE TO SEEGENERAL TWIGGS SURRENDER


CLICK HERE TO SEETHE ALAMO


CLICK HERE TO SEESAN JACINTO MONUMENT


CLICK HERE TO SEEBATTLESHIP TEXAS


CLICK HERE TO SEESEAWORLD PHOTOS


CLICK HERE TO SEESAN ANTONIO ZOO


CLICK HERE TO SEERENIASSANCE FAIR


CLICK HERE TO GOTO HOME PAGE


CLICK HERE TO SEEPAINTED CHURCHES


CLICK HERE TO SEEMINIATURE HORSES


CLICK HERE TO SEEME =)


CLICK HERE TO SEECIBOLO PARK


CLICK HERE TO SEEKELLY AIR SHOW