THIRTEEN DAYS OF GLORY-1836

FEBRUARY 23 Mexican troops occupy San Antonio. The Texians retire to the Alamo. Travis answers Santa Anna's surrender demand with a cannon shot.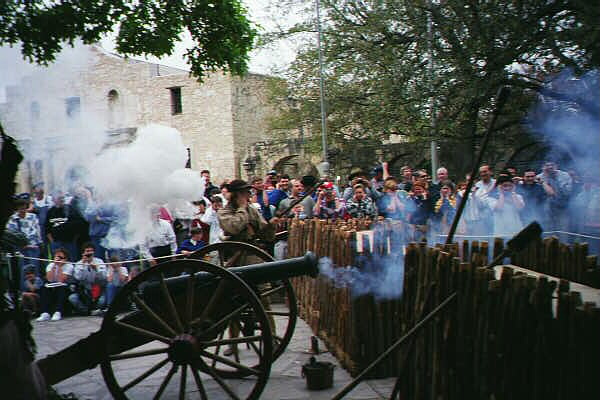 FEBRUARY 24 Bowie, ill, turns full command over to Travis. Travis pens his "TO THE PEOPLE OF TEXAS" letter and sends it to Gonzales.
FEBRUARY 25 Mexican troops in skirmish with the Alamo's southern defenses. Artillery bombardment continues. Travis drafts an appeal to Sam Houston. Fannin starts to march to The Alamo but his carts break down a mile from Goliad.
FEBRUARY 26 Bombardment continues. Texians make a raid on La Villita, burning several homes which have afforded the Mexicans cover. Fannin elected to return to Goliad.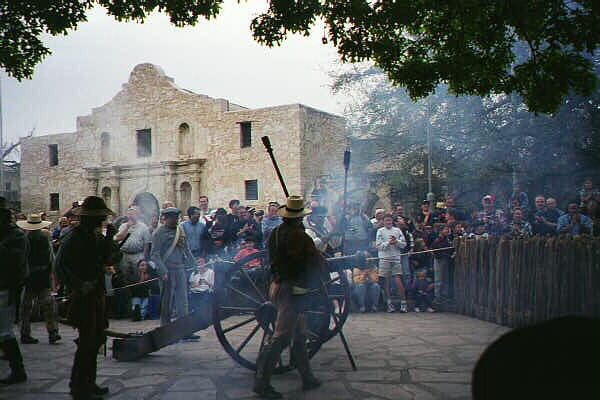 FEBRUARY 27 Bombardment continues. Thermometer is 39degrees. James Bonham sent out to seek help from Goliad.
FEBRUARY 28 Bombardment continues. Juan Seguin and Cruz do Arocha dispatched by Travis to Goliad.
FEBRUARY 29 Weather improves to 55 degrees. Sam Houston arrives at Washington-on-the-Brazos.
MARCH 1 Weather is cold. Thirty-two men from Gonzales and Goliad arrive at 3am to reinforce The Alamo. Texas Convention meets at Washington-on-the-Brazos.
MARCH 2 Convention declares Texas an Independent Republic.
MARCH 3 James Bonham returns on his attempt to secure reinforcements. Bombardment continues. Travis sends out his last known letters.
MARCH 4 Mexicans advance artillery position within 200 yards of The Alamo's north wall. Santa Anna holds a council of war and lays out his plans for taking The Alamo by storm.
MARCH 5 Mexican troops assemble after dark and prepare to move into position for the dawn assault. Bombardment ceases to help lull Texians to sleep. Travis sends James Allen out as the possible last courier.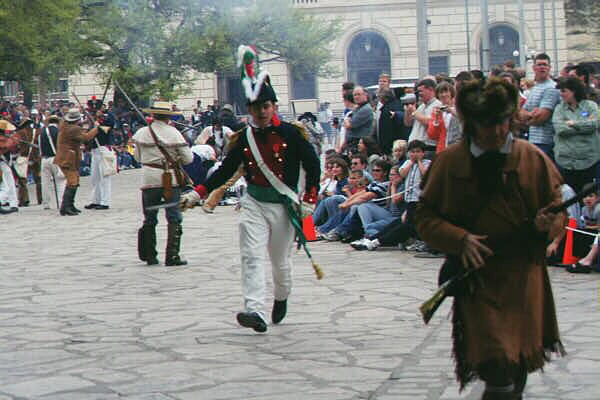 MARCH 6 In the pre-dawn, 1400 Mexican troops assault The Alamo. By 6:30am the fort has fallen. Nearly 600 Mexicans are killed or wounded, all the Texian defenders slain. Fourteen women and children, a Hegro slave and a Mexican prisoner are spared.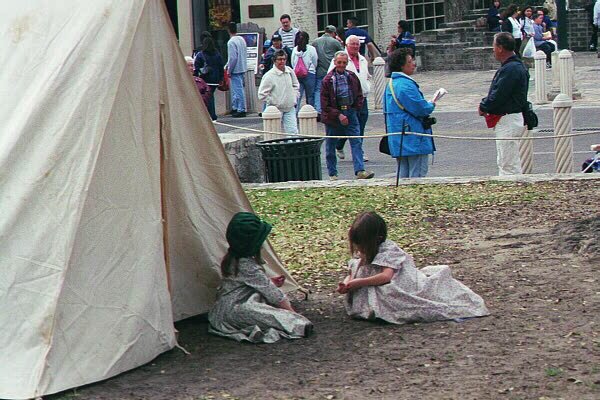 CLICK HERE FORMORE INFO ON ALAMO



CLICK HERE TO SEESAN ANTONIO PLAYGROUNDS


CLICK HERE TO SEEGENERAL TWIGGS SURRENDER


CLICK HERE TO SEESAN JACINTO MONUMENT


CLICK HERE TO SEEBATTLESHIP TEXAS


CLICK HERE TO SEEKELLY AIR SHOW


CLICK HERE TO SEESEAWORLD PHOTOS


CLICK HERE TO SEESAN ANTONIO ZOO


CLICK HERE TO SEERENIASSANCE FAIR


CLICK HERE TO GOTO HOME PAGE


CLICK HERE TO SEEMINIATURE HORSES


CLICK HERE TO SEEME =)


CLICK HERE TO SEEGHOSTS


CLICK HERE TO SEECIBOLO PARK